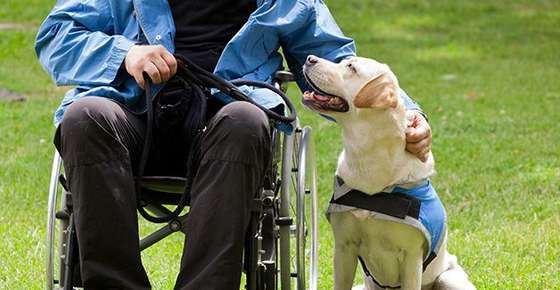 Assistance dogs are not just for blind or visually impaired people. Today, these dogs help people with a range of conditions enjoy full lives.
Guide Dogs
Guide dogs, also known as Seeing Eye dogs, help blind and visually impaired people live independent lives. These dogs "see" for their owners and help them travel safely to work, school and other destinations. Guide dogs are trained to stop to alert their owners if there are changes in elevation ahead, such as curb or stairs, of if there are overhead obstacles, such as low-hanging tree branches.
German Shepherds, Golden Retrievers and Labrador Retrievers are usually chosen to serve as guide dogs. Puppies live with volunteer families until they are 1 year old and then spend the next four to six months learning how to assist blind and visually impaired owners. Once they meet training requirements, they are matched with an owner.
Hearing Dogs
It's not easy to be deaf or hard of hearing in a world full of sounds. Hearing dogs offer a valuable service by alerting their owners to important sounds, including ringing telephones, crying babies, doorbells or buzzing smoke alarms. These mixed breed dogs are typically a little smaller than guide dogs and are often rescued from animal shelters. They receive specialized training that allows them to make sure that deaf and hard of hearing people do not miss important auditory cues.
Service Dogs
Service dogs help people with other types of disabilities. They may be trained to alert someone with a seizure disorder when a seizure is likely to occur, help steady a person with balance problems, pull a wheelchair or fetch items that are out of the reach of a disabled person. These dogs can be trained to perform a variety of tasks, such as opening and closing doors, turning on light switches and keeping children with autism from wandering. Labrador or Golden Retrievers, some of whom come from animal shelters, are often chosen to be service dogs.
Emotional Support Dogs
An emotional support animal provides companionship to someone who has a psychiatric disability or mental impairment. Unlike other types of assistance animals, these dogs are not trained to perform a specific function. Their presence can help reduce stress and loneliness and lower anxiety. Caring for emotional support dogs also provides opportunities for the owners to spend time outdoors and socialize with other people.
Where Are Assistance Dogs Welcome?
Assistance dogs are welcome everywhere their owners are. In fact, the Americans With Disabilities Act (A.D.A.) stipulates that trained assistance dogs are permitted to accompany people with disabilities anywhere they need to go, including stores, restaurants and hotels. Because emotional support dogs are not trained to fulfill a specific purpose, they are not offered the same protections provide by the law; although many stores and other businesses still allow the dogs to accompany customers and clients.
Although the provisions of the A.D.A. do not apply to emotional service dogs, the U.S. Department of Housing and Urban Development has passed a regulation that allows emotional support dogs to live with their owners in designated non-pet housing, as long as the owner can produce a letter of need from a doctor.
Whether you have an assistance animal or your dog is the cherished family pet, a yearly veterinary examination will help ensure that your furry friend remains healthy and happy. Call us today to schedule your pet's next exam.