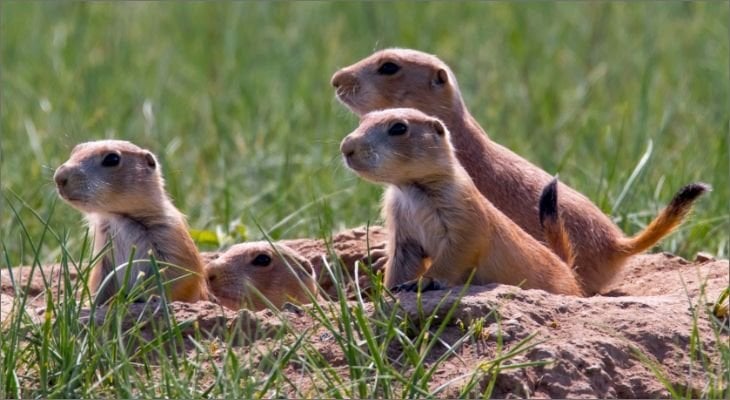 Prairie dogs are cute, affable creatures. But before taking one on as a pet, check your local laws. In some states, such as Colorado, it's illegal to keep prairie dogs as pets. Mostly, this is because they may spread monkeypox. If you live in a state that welcomes pet prairie dogs, be sure to buy from a reputable prairie dog breeder or rescue shelter. Animals from these sources should be healthy and disease-free.
Health
Adult prairie dogs grow to about 3.5 pounds -- the size of a small house cat. They breed aggressively, so be sure to keep pairs or groupings of same-sex or spayed and neutered dogs. These are social animals, so they'll need a buddy to be happy. If you plan to keep a prairie dog, plan on buying him a pal, too.
Prairie dogs are rodents, just like rats and squirrels. As such, they'll need regular veterinary care from time to time. Your veterinary team is skilled at helping you care for your prairie dogs to keep them healthy, happy, and fit.
Care
The ideal habitat for prairie dogs is outside where they can burrow as desired. Many pet owners keep prairie dogs indoors, however, in crates used to house large dogs. Prairie dogs need lots of space and privacy. Provide materials for them to burrow into, such as soil, peat, or paper. As you can imagine, housing a prairie dog can be a messy endeavor unless you're equipped to house him outside.
Feeding
Captive prairie dogs eat a vegetarian diet that includes:
Fresh hay and grass

Fresh fruit

Seeds and nuts

Vegetables

Commercial prairie dog pellets
Your prairie dogs will need access to fresh water at all times, too. Your veterinarian is the best one to help you plan your prairie dog's diet. This ensures your pet gets the nutrients he needs to stay disease-free.
Training
Your prairie dog can be trained to use a litter box just like a cat. In fact, training a prairie dog is easier because they live in colonies in the wild and dig community latrines just for this purpose. Training your prairie dog to use the litter box is often as simple as giving him access and then rewarding him with a snack when instinct encourages him to use it.