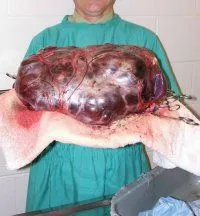 In October of 2007 we removed a hemangiosarcoma attached to the spleen of a 9year old Labrador Retriever. As you can see, the 23.8# tumor filled almost the entire abdominal cavity. After 5 days of hospitalization "Bailey" went home and made a full recovery. He is now 12 years old and doing well. -Dr. Tucker
Pics of Bailey in for his yearly physical in 2009.
In March 2010 Bailey was diagnosed with his second form of cancer known as cutaneous lymphosarcoma. He has had several surgeries to remove cancer lesions from his facial area and is currently receiving chemotherapy. He is doing well.
Final update: We regret to inform our friends that Bailey lost his battle with cancer in December 2010. He will be missed by the staff at Green Springs Animal Clinic.